Let's start out by playing a little word association.
Ray Allen? Idol.
Miami Heat? Nemeses.
As a long-standing disciple of Ray Allen's tireless work ethic and commitment to being the best through hour after hour of painful, methodical practice, my heart dropped when he decided to join the team many have been brutally critical of since this:


The 36-year old star provides Miami a huge shift not because of his pinpoint shooting (he averaged a career best 45.3% from downtown last year), but because of something much more troubling for the rest of the NBA: his leadership. Aside from his collection of treys, it is ultimately what will land him in Springfield, Massachusetts one day, and the rest of the Association should be on notice.
Before we get to his future role with the Miami Heat, let's examine his shocking, almost bitter exit. Let's make this clear: besides the few fickle, die-hard fans out of Boston, nobody will blame Ray Allen for leaving for a better shot at another ring. Ask anyone. He played twelve seasons of his best basketball in Milwaukee and Seattle, two franchises that weren't exactly the who's who of the Association, and he won't settle for a situation he knows isn't his best opportunity to get more NBA hardware.
When he formed one of the best "Big 3's" in recent history, alongside Paul Pierce and Kevin Garnett (not to mention a blossoming point guard by the name of Rajon Rondo), the Boston Celtics rose from the shadows of its 1960s and 1980s glory to defeat the Los Angeles Lakers in the NBA Finals in 2008. What followed was four more playoffs appearances, including another Finals trip and the bittersweet loss to the eventual champion Miami Heat this year.
Keep It Moving
Following the less than harmonious exit, many questions surrounded the Celtics. Who would carry the torch for the Celtics? Next to questions about Allen, the Celtics had a major roster overhaul ahead of them. Kevin Garnett? Brandon Bass? Rebuild? Reload? This is how they put them to rest:
Kevin Garnett: Re-signed, 3 years, $36 million

Brandon Bass:

Re-signed, 3 years, $20 million
With both Bass and Garnett back, and the addition of Jason Terry, the Celtics already seemed like a squad that would meet the Heat in next year's conference finals.
Also, after drafting college stars Fab Melo and Jared Sullinger, the team not only had its starting five ready for next season but a reason to be excited about its future.
Everything seemed right in Beantown. The bitter defeat was temporarily washed away by a spirited offseason campaign. Little did Danny Ainge and Co. know that Allen was a lot closer to the warm shores of South Beach than he was his adopted home in Boston.
The Exodus
With Doc Rivers and Ainge sure they could "put the band back together" (I don't know how many times I heard this between the time Boston exited the playoffs and the free agent frenzy), whispers of a Grand Canyon-esque rift between budding star Rajon Rondo and the all-world Allen kept fans' hopes grounded in reality but still thinking "Ray Allen would never leave the Celtics for the Heat."
The story goes like this: Ray Allen's first season in Boston marked a period of mentorship to the young Rondo, as he shared his
pre-game ritual
and expertise with the young pup leading up to the NBA Finals super-matchup with Kobe and the Lakers. Allen, like he had done so often with former Seattle teammates Rashard Lewis, Damien Wilkins, Chris Wilcox, and Luke Ridnour, had taken Rondo under his wing, showing him what it meant to translate a disciplined work ethic into future NBA success.
Throughout the five years they spent together, something got lost. Rondo was growing by leaps and bounds,
and Allen was slowing down, ultimately making him expendable. The young point guard was garnering teammates' respect not because of his flashy plays or gaudy stats, but because of his unrelenting desire to win, something directly tied, at least in the slightest bit, to his work with Allen.
Since Rondo's contract extension, the team's trainers noticed something different: the young guard was blazing his own path, skipping pre-game workouts with his former mentor. As the story goes, that did not sit well with Allen. It's said that this led to a polarization of the Celtics' locker room, where Rondo's free spirit guided many of the team's younger players to stop seeking advice from its veteran nucleus. Perhaps the biggest factor (next to being constantly dangled in trade talks and the rise of Avery Bradley) was that Allen had lost one of the things he had enjoyed the most: being able to connect with the next generation of Celtics.
The Bottom Line
And this is where we stand, with Ray Allen joining the all-world talents of James, Wade, and Bosh. Outside of all the talk of treason in the Northeast and shock over #20's jump, many pundits have glazed over his mental toughness and ability to get Miami's Big 3 to "Do (more) Work" and put them in a completely different stratosphere. That combination, in a world where all-world talents are likely to end up on a list of SportsCenter's "Top 10 Biggest Draft Busts" because of lackadaisical preparation and work habits, is troubling. To quote another uber-talented NBA star's (Durant) mantra, "Hard Work Beats Talent When Talent Fails to Work Hard."
My question is: What happens when great talent (Miami's Big 3) wisely soaks up the elder statesman's (Allen) overly determined work ethic? Think of the age old adage: more fuel to the fire.
It is inevitable that any of Miami's Big 3 will be double-teamed and pressured, and when all things are crumbling, who will be there as their safety valve? The one and only (and likely healthy) Ray Allen in the corner, on the wing, or at the top of the key. The rest, as they will say, is history. A
history that could consist of "not one, not two, not three, not four…" championships.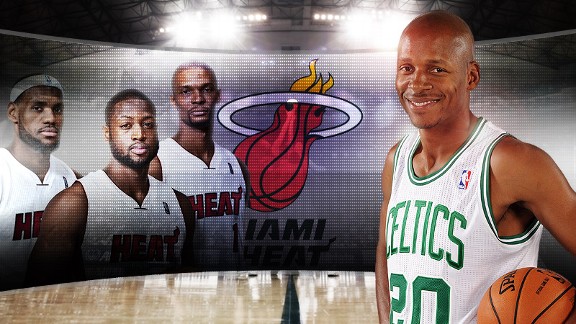 Meet your new running buddies.
We are several months away from the beginning of training camp, but that should be enough to make any NBA fan (depending on your location) lose sleep at night.
Photos and video courtesy of Youtube, Bleacher Report, and ESPN