It's here. Finally. Yes, I know, the 2012 London Olympics do not officially start until Friday, but the beauty of a full-slate tournament is we get to see great games a couple days early. So without further ado...
The United States and France started off Group G play, with the winner almost assured to win the group and avoid Japan, who are favored to win Group F, in the knockout stages. Both teams began the match working out the kinks in their games.
The US had some decent chances brought on by a mix of brilliant passes and not-so-nice ones that France just failed to get to.
Within 15 minutes of play, the French scored two brilliant goals from two of their top goal scorers and had the Americans on their heels. The French are a talented squad, but seriously, how can you be losing to them when you have talent beyond belief? American midfield and forward play should be running circles around the French.
Abby Wambach set the tone in minute 18 and scored on yet another scorching header. Add that to her already growing list of amazing hits and you can basically see that if you lob the ball to your practically s
ix-foot forward who is taller than most of the ladies on the field, you stand to score pretty much at will. Her fiery
demeanor after that goal was evident as she called for the American women to rally and hit back.
Alex Morgan scored twice in between a Carli Lloyd curler, which was definitely the top goal in the game alongside

Gaëtane Thiney. Morgan's second goal was icing on the cake. I wasn't sure exactly if the French defense was just too focused on Abby that they allowed the ball to slip by five players right to Alex's foot, but either way, if you have three defenders marking your best player, you need to
capitalize
on it.
The game ended 4-2, and with the first game under their belts, I have to say the Americans looked okay. I'm impressed with the comeback but
disappointed
in the fact they were down 2-nil to begin with. Sundhage's switch to a 4-4-2 format really opened up American offensive play and probably just needed some kinks in the
beginning
to adjust to. Pairing the two strikers made things easy for Megan Rapinoe, Carli Lloyd, Tobin Heath, and the rest of the American offense to create and wear down the French defense.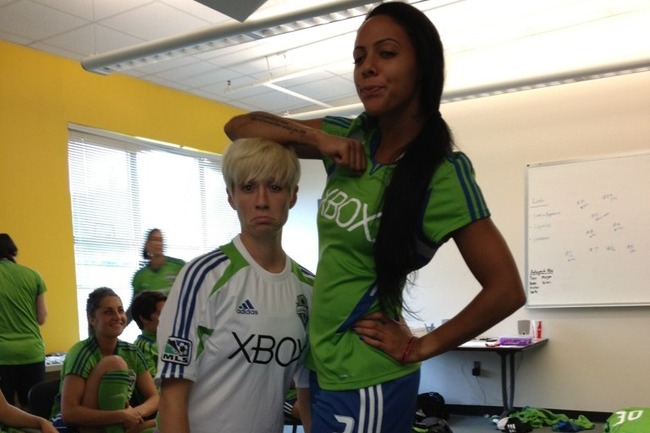 No, Sydney is not actually that tall ... both stand at 5'7.
We even had a Sydney Leroux sighting in the 84th minute. Sundhage
definitely needs to find a way to get her in the game more. In her second game as a US team member, she scored 5 goals. Some players don't even do that in their lifetime. Maybe a switch to a 4-3-3 formation could be in order?
Photos courtesy of bagofnothing.com, equalizersoccer.com, and bleacherreport.com