Two weeks. This is the time that has passed since the King's detractors have heard their harsh criticisms drowned out by wide acclaim for a phenomenal 2012 playoffs run. LeBron haters and non-believers continued to lob volleys at the NBA MVP throughout the playoffs but were ultimately silenced by images (and the subsequent distaste in their mouths) of a Miami Heat championship parade.
-end scene-
Now that we can safely turn on SportsCenter without being force-fed news of James' finishes or follies, fans and players alike are asking "Who is the next NBA superstar to hoist the Larry O'Brien trophy before his time is up?"
Carmelo Anthony had an answer when he proclaimed, "I believe my time is coming" to
ESPN
. Granted, he likely received the publicity because every other top 5 pick of the 2003 NBA Draft has added championship hardware to his jewelry case.
Initially, the idea of Anthony seeing his championship aspirations along the horizon made me scoff, but, my negative perception aside, I had to handicap Anthony and those dubbed superstars without championships:
*
All players considered were those with five or more years of experience
Moonlighting
Steve Nash – Point Guard, Los Angeles Lakers
Fresh off a blockbuster sign-and-trade from the Suns, Nash will arguably be the biggest NBA superstar under the microscope this side of LeBron James. At the ripe old age of 38, Nash is going to be one-half of a backcourt duo, along with a little-known fellow named Kobe Bryant, boasting 3 Most Valuable Player Awards and 22 All-Star game appearances together. He's only one of two players to have hit the 50-40-90 mark (FG%-3PT%-FT%) in multiple seasons, the other being Larry Joe Bird. The ultra-efficient Nash dishing it to the Black Mamba is already enough to make some Western Conference foes see shades of the boogeyman. Now take a second to think about what that means for the rest of the Association.
Nash has a small window to make this happen, but with Kobe still able to carry the team and Andrew Bynum emerging as a premier talent, this might just be his year.
Outlook: Better than it has been. Ever. The Lakers haven't had a game-changing point guard like Nash since Magic Johnson (sorry all you Ron Harper fans). They'll need to learn how to play defense, but this shouldn't be too much of a stretch for Mike Brown.
Vince Carter – Shooting Guard/Small Forward, Dallas Mavericks
Whlie his old running mate's situation deserves much pomp and circumstance, the former slam dunk champion keeps things moving along, playing along the likes of other aging (but accomplished) stars Dirk Nowitzki and Jason Kidd in recent years. However, after joining Dallas the year after they won their championship, Carter is a part of a roster falling apart. Dallas native Deron Williams turned the Mavs down in favor of Brooklyn and super-sub Jason Terry, upset with not having a long-term contract already in place, joined the Celtics for one last run. One thing is clear about Carter's future with the Mavs: things aren't looking as rosy as the team had hoped coming into the NBA offseason.
Outlook: Flickers of hope, but sparks won't fly unless Mark Cuban gets active in filling his roster out with good talent.
Primed (or so you would think) For a Shot
Carmelo Anthony – Small Forward, New York Knicks
So we come to the man who was the inspiration for this article. Much has been said about Anthony, his tremendous ability to light up the scoreboard, his marriage to former MTV VJ LaLa Vasquez, and his ability to slap a man and run away from any possible repercussions (aside from the resulting suspension).



True, Anthony is looking more and more mature amidst the likes of players such as the flip-flopping Dwight Howard, but he has yet to take it to that next level. As Isaiah Thomas once put it, "The secret of basketball is that it's not about basketball." What has that meant for Melo? It's translated into him spending his first seven-plus seasons on a team that many referred to as the "Thuggets." I'm not one to judge, but when you are playing with the likes of the tattoo-armored J.R. Smith, Kenyon Martin, and Chris Andersen, things seem bound to end up just like that: an ink-blot mess that would make even the Watchmen's Rorschach wince.
Enter New York. After spending the latter quarter of the 2010-11 season filling up the stat sheets with stats best described as empty calories, Anthony was teamed with the explosive Amar'e Stoudemire (we'll get to him in a minute) and the freshly anointed championship center Tyson Chandler to add steak to the sizzle.
He's done what he's been doing, filling up the bucket faster than Colonel Sanders. However, his offense has never been the question. It's what his team has done with it. And that is, truly, simply nothing. It isn't too hard to realize that New York went on some of its best runs with sensation Jeremy Lin at the helm, not Melo. Now that Miami's big three (and fellow class of 2003 studs) have won a championship, Anthony is seeking his time in the playoff limelight but will have to sacrifice some of himself to do so.
Outlook
: Carmelo is in the right position to live up to his "calling." He's got a coach who will give him more leeway on offense (and more importantly, who he's endorsed
publicly
) and a solid point man handing him the ball (the recently acquired Jason Kidd). More importantly, he's got reigning DPOY Tyson Chandler, who will make up for many of the defensive deficiencies created by New York's sub-par defenders.
Amar'e Stoudemire – Power Forward/Center, New York Knicks
Now it's time to take a look at the other half (or third, or fourth, depending on who you consider integral to a championship run): the one and only STAT.
Before New York became the land of Carmelo and Honey and way before Linsanity hit Broadway, Stoudemire signed a lucrative deal to begin a new era with the Knicks. He's played with All-Stars such as Steve Nash, Joe Johnson, and Chauncey Billups, but he hasn't so much as had a sniff at the Finals since being ousted by a man named Kobe in 2010. Undaunted, Amar'e has overcome several injuries, most notably a microfracture in his knee and a detached retina that ultimately led to him wearing protective goggles to this day.


Stoudemire's career has been closely tied to that of Coach Mike D'Antoni, a practitioner of the run-and-gun offense once driven by Steve Nash. Within this system, he's been known for high outputs, averaging a respectable 21 points and 8 rebounds per game over the last two seasons with the Knicks.
Now under Mike Woodson, the Knicks are an enigma, eschewing complete mediocrity for at least one season, but not significantly closer than their Eastern counterparts Boston, Miami, and Chicago.
And that's where the Amar'e and Carmelo stand, at a nebulous territory between Linsanity Avenue and NBA Finals lore. Only time will tell if they are able to answer fans' cries for the franchise's first championship since the fabled Willis Reed carried them to a championship in 1973.
Outlook: The Knicks will be packing some heat with Carmelo Anthony, Jason Kidd, Jeremy Lin (likely), and Stoudemire, but it will be up to Mike Woodson to thrive where so many others have failed, wilting under the New York spotlight.
Chris Paul – Point Guard, Los Angeles Clippers
A year after one of the NBA's most controversial talent swaps, Chris Paul is fully focused on leading the ship Sterling built to an NBA Championship. With the likes of Blake Griffin, DeAndre Jordan, and Chauncey Billups at his side, Paul will be looking to dig deep and help the Clippers get that much closer to eclipsing the Lakers as LA's basketball team. (It'll never happen, but it's fun to envision the idea).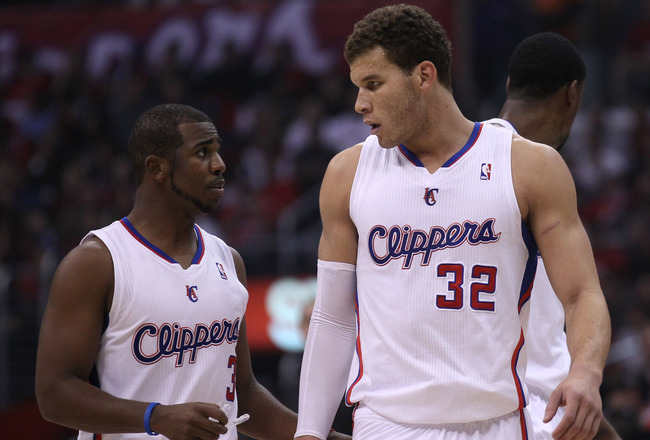 The question remains whether the Clippers can become more than the "Lob City" moniker that enveloped the city upon Paul's arrival this fall. The burning questions? Can Blake Griffin be more than a real-life exhibition of NBA Jam and when will Donald Sterling drop the axe on the beleaguered Vinny Del Negro and bring in a real coach? Answering these questions is more central to the Clippers' championship aspirations.
Outlook: He has to overcome an inept head coach, Kobe Bryant, and Blake Griffin's learning curve. Don't hold your breath.


Murky Says It Best
Deron Williams – Point Guard, Brooklyn (don't call them New Jersey) Nets
Backed by hip-hop mogul Jay-Z and Russian billionaire Mikhail Prokhorov, the cream of the NBA's free agent crop got a couple of running buddies in All-Stars Joe Johnson and Gerald Wallace, giving fans eagerly awaiting basketball in Brooklyn something to be excited about.
My question is "why?" Williams chose Brooklyn and its $98 million over Dallas with the hopes of winning now. Unfortunately, barring a minor miracle where Dwight Howard flies in a la Clark Kent, Williams might have sacrificed his best years before starting them.
Outlook: Highly combustible. Best-case scenario has Jay and Prokhorov landing Howard and eating the luxury tax. In today's era, Howard would be pivotal in taking them to the next level.
Dwight Howard – Center, Orlando Magic
Next to Carmelo Anthony, I can't imagine many other players I'd rather not discuss than Dwight Howard. Superman first landed in the NBA in 2004 with big shoes to fill (think a large muscular center out of Louisiana State with a name that rhymes with 'back').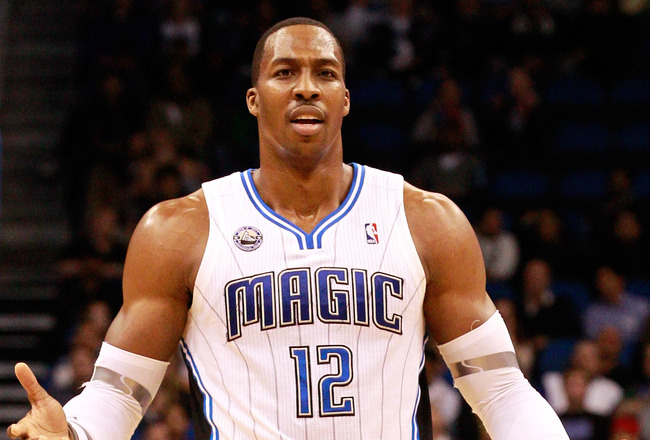 Flash forward three defensive player of the year awards and one gold medal later, and we arrive at Dwight the Whiner. Much has been made about Howard's desire to get out from under Stan Van Gundy's thumb in Orlando and his unhappiness with the Magic organization, but what we forget is that Howard has never played with the best talent.
While I'd rather rail on Howard for acting goofy and like a baby throughout his career, we have yet to see him play with top-tier players. Without an elite distributor and a few more post moves, Howard may never discover how James and Co. feel. As a center, he's unlike many of the players on this list because he rarely gets the chance to create his own offense. Plus, we know he won't go all Andrew Bynum on us and start popping off threes in an apparent f--- you to his coach. Actually, another year under Van Gundy might do the trick.
The bottom line is that he is going to have to find somewhere to settle down, shut up, and play the way he did in 2010, leading the Magic to the NBA Finals against Kobe's Lakers. Assuming he lands with the elite point guard he so desires, Howard is still in the prime of his career and ready to launch. I just don't think he will be the epicenter of these efforts.
Outlook: Very promising if he's willing to shed the Pampers.


Photos and video courtesy of Bleacher Report